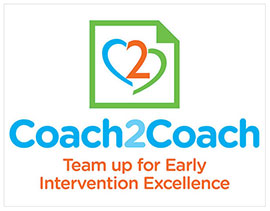 Thank you so much for your interest in Coach2Coach!  If you've signed on to be part of this project, we are grateful for your willingness to join us on this journey to better practices with children and families in Mecklenburg County.  This project can help you identify your needs, practice skills you are working on now, and learn some new skills.
Resources for C2C Coaches
If you're new to this program, Coach2Coach is a local coaching program through the Mecklenburg County Children's Developmental Services Agency (CDSA) to support early intervention providers in our provider network to reflect on and improve evidence-based practices, natural learning environment practices, and coaching practices in their work with young children and families.  We seek to use the practices set forth in the Early Childhood Coaching Handbook (Shelden & Rush, 2011) to improve our practices.
Who's Who in Coach2Coach:
• Master Coach (MC):  Providers and CDSA staff who have additional training as Master Coaches and will be working with learners to build their practices
• Learner:  Providers who have agreed to work with a Master Coach
• Mentor:  CDSA staff/supervisors who provide support to Master Coaches in their work with learners
• Coaching Practices:  Joint Planning, Reflection, Action/Practice, Observation, Feedback
• Natural Learning Environment Practices:  Child Interest, Activity Setting, Parent Responsiveness
• Evidence Based Practices:  Early intervention practices that are based in research and proven to be effective with children birth to three with disabilities.
• Resource Based Practices:  Identify Resources, Selecting Resources, Accessing Resources, Evaluating Resources
Participation involves a 6-month commitment, during which the Master Coach and the Learner meet on a monthly basis for observations and follow-up conversations.  The goal is to meet professionals where they are and tailor supports around building on their knowledge of Evidence-Based Practices, Natural Learning Environment Practices, and Coaching Interactions with families.
Take a look at how some of our Master Coaches have reflected on their training process – we have a category just for that on our Coach2Go blog!  For more information, email us at info@eiexcellence.org.
Program Guidance Documents
Coach2Coach Requests
If you're interested in participating in our Coach2Coach project, fill out the contact form below, and we'll be in touch!