Written by AnneLouise O'Brien, Senior Case Coordinator, Mecklenburg County CDSA
No, an eco-map won't geographically lead you to a family's home, but it is a way to get to know a family better once you are in their home.  In our work as early interventionists, we spend a lot of time looking at a child's skills in the context of daily routines and activities.  While that is an important piece of the Individualized Family Service Plan (IFSP), there is another part that we have to address if we are going to get a complete view to be able to support the whole family.  For every child enrolling, we complete a Family Directed Assessment (FDA) to learn about the family's concerns, priorities and resources.  An eco-map is a great place to start.  If you've never heard of it, an eco-map provides a visual snapshot of a family's relationships, supports, and resources, also referred to as the family's "ecology."  The eco-map shows the family as the center circle and captures three different types of supports they have:  informal (family, friends, neighbors), formal (medical home, daycare) and intermediate (work, church, recreation).  Each of these are connected with lines from the center circle.  The lines can be normal, thick or dashed to reflect the strength and variability of support each resource provides for the family.  Take a look at this one – there are different ways to do an eco-map, and this is the format we chose to use.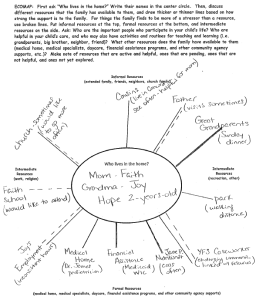 When I learned about eco-maps in grad school, I was initially skeptical of them.  There was something about the circles, the lines to nowhere, and all of the specific details involved in what was supposed to be a relationship-building experience.  As an early interventionist who is regularly completing eco-maps with real families, I now have an appreciation for this tool.  The circles and lines are part of the process and can be a helpful visual for both families and professionals. That being said, we need to make sure the focus is always on the conversation with the family and not on making the perfect piece of artwork!  Ultimately, this tool is providing us an opportunity to begin a personal connection early in our work with families, as well as meaningful information to integrate into IFSPs.  While we try not to let the lines and circles distract us from our intent, part of the value of the eco-map is the visual impact it can provide.  Seeing the eco-map can validate the family's feeling of having a lot on their plate with little help or remind them they do have a support system in their corner.
Here in Mecklenburg County, we have been using eco-maps as part of our FDA process for the past several months. The information that goes in the eco-map is gathered on the first or second visit with a family and can be quite seamlessly intertwined in discussions we are already having about their daily routines and activities.  In my experience with the families I work with, as well as those of the service coordinators I've observed, a lot of the information going on the eco-map comes up naturally during these early conversations.  As a matter of fact, we usually begin to learn about a family's resources following a first phone call.  It is then that when we find out things like who a child is with during the day and the family's work or school schedule.  When it is time to complete the eco-map, service coordinators have become quite savvy about revisiting information already provided by the family and building on what has already been shared.  Gathering this information does not have to be an isolated event. Through our ongoing work with families, we hope to help them celebrate the supports unique to them and use those to strengthen opportunities for learning and growth for their child and family. 
Some of us have had some reservations about getting this up-close-and-personal with families early on in our work together.  The words "nosy" and "intrusive" have come up as we've discussed the use of this tool and have even fueled some passionate conversations as we were stumbling together through the new process.  Letting the family know they can share as much or as little as they feel comfortable with is a good idea in prefacing an eco-map.  Being aware of nonverbal cues that may indicate a parent may not want "to go there" is also part of our role during this conversation.  Some families will have a lot of resources and various supports, and some may have very little.  It is important for us to be sensitive to families who may not have as many resources and help them identify those they do have, but may not have seen as a resource.  Also, part of a service coordinator's work with families is to identify the needs for additional support they might like to have, reflecting that on their IFSP and working alongside them to put some of those in place.  For example, it's possible a child's unique needs could be impacting the family's ability to participate in certain community activities they used to enjoy.  We can help the family identify some tangible things they would like to have happen regarding the child's needs and figure out how we can assist in working toward a plan to be more involved in those activities again.
As a modern-day early interventionist and an avid reader of EI Excellence, you know early intervention reaches far beyond the child enrolled.  We are striving to continue to grow in our "family centeredness," and part of that is continuing to celebrate family strengths.  In order to be family centered, we need to fully understand what makes up this unique group of individuals that are linked to the child.  In reality, getting information about a family's resources is and has always been a part of IFSP development.  Using an eco-map is simply one way to help us do a better job of getting this valuable information in a concise way and, as mentioned earlier, can be a nice opportunity for service coordinators to begin to develop a relationship with the family.  If we approach our discussions around family supports in a positive and light manner, the information should come about naturally and be comfortable for both the early interventionist and the family. 
In our effort to bring early intervention supports off the floor and into family routines, an eco-map can be a place to start in keeping the family as the center of the process.  Families do not live in a bubble, and we need to remember to shine a light on what they already have, who they have, and where they spend their time in order to maximize learning and growth opportunities for the entire family.
Looking for more?  Here are some helpful links to help point you in the right direction!
Using Eco-Mapping to Understand Family Strengths and Resources
Eco-map Development Checklist R. McWilliam
Eco-Map Project Integrate