Written by Julie Higginbotham, Senior Case Coordinator, Mecklenburg County CDSA
We had another great COW, or Concept of the Week, discussion here at the Mecklenburg County CDSA, and yes, it still makes me happy to say we had a cow!  🙂  Anyway, we were focused this time on characteristics of coaching and what it does (and doesn't) look like when we're with families.  Remember the Seven Key Principles:  Looks Like / Doesn't Look Like document that we've shared in the past?  It's a great resource, and our friends at the Virginia Early Intervention Professional Development Center used a similar format when they developed a handout in Virginia's Coaching Facilitation Guide based on information found in The Early Childhood Coaching Handbook, by M'Lisa Sheldon and Dathan Rush (2011).  We tweaked it a bit to fit our needs for this COW.  Take a look at what we sent out to our staff to prepare for team meeting discussions: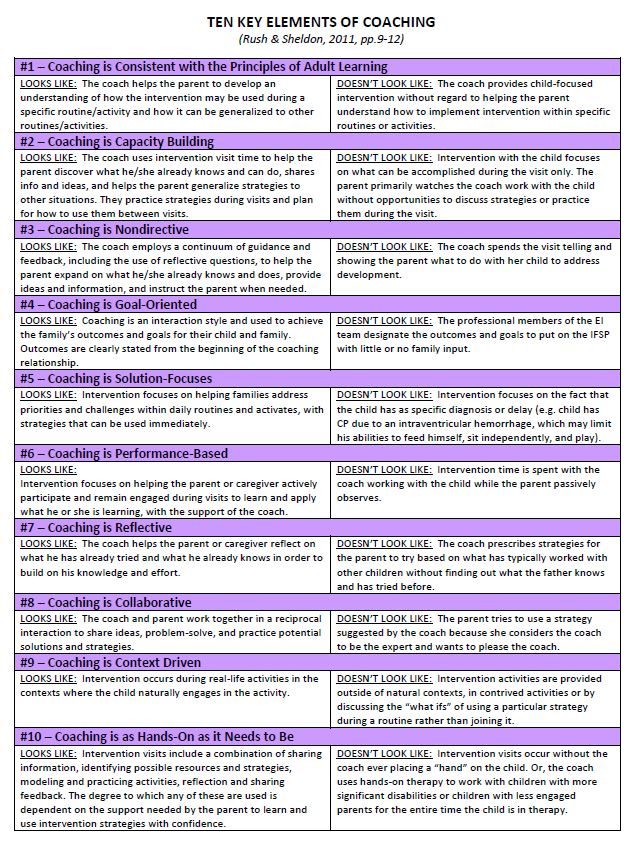 The great thing about this is that it gives us a more specific comparison between the "looks like" and "doesn't look like," as well as a different frame of reference when we're thinking about our own practices.  We're all in different places on our own learning curves, and having these conversations helps us learn from each other's experiences.  Now, we're throwing the COW out to you – tell us what you think about these coaching characteristics.  How do they compare to your interactions with children and families, and what are the aspects that you might want to explore further?